QURAN MOBILE PHONE:
Quran Mobile is first of its kind mobile phone in India - exclusively offered by eBusiness Indya . This unique and feature rich Islamic mobile phone was just launched in India. The great looking handset is already very popular among the muslim community in other parts of the world. The phone not only boasts about its Islam centric features but also sports a beautiful look and brings along a rich set of multimedia capabilities.
Product Features:
Exciting New Features:
Double Sim
Complete Quran Recitation in voice of Famous 7 Qari (Recitors)
Auto Silent Mode during Pray Times in Masjid
29 Languages Quran Translations
Complete Tafseer and Authentic Hadeeth Books collection
Set calendar type (Gregorian, Hijri)
Complete Holy Qur'an:
Recitation of Complete Holy Quran in the voices of world top 7 recitors
Beautiful Uthmanic Arabic text style font enhancing the true spirit of reading
Easy selection of Surah and Ayah
Bookmarking option for Surah/Verse
Synchronised Quran text and translation with recitation audio.
Qari (Recitors) Collection:
Abdul Rahman Sudais
Saad Al-Ghamdi
Maher Al-Moeqali
Abu Bakar Shatri
Mishary Bin Rashid
Ali Al-Hudaifi
Siddiq Al-Manshawi
Tafseer Collection:
Tafseer Ibne Katheer (Arabic)
Tafseer Jalalain (Arabic)
Tafseer Al Qurtabi (Arabic)
Tafseer Al Tabari (Arabic)
Tafseer Ibne Katheer (English)
Tafseer Jalalain (Malay/Indonesian)
Tafseer Ibne Katheer (Urdu)
Ahadith Collection:
Sahih Al Bukhari (Arabic)
Sahih Muslim (Arabic)
Sunan Abu Dawood (Arabic)
Sunan Al Nasaa'ee (Arabic)
Sunan Ibne Ma'ja (Arabic)
Sunan Tirmazi (Arabic)
Riyad us Saliheen (Arabic)
Ahadithe Qudsi (Arabic)
Al Kabaer (Arabic)
Arbaeene Nawawi(Arabic)
Bulughul Maram (Arabic)
Sahih Al Bukhari (English)
Riyadh us Saliheen (English)
Riyadh us Saliheen (French)
Arbaeene Nawawi (English)
Sahih Muslim (Malay/Indonesian)
Sahih Al Bukhari (Urdu)
Sahih Al Bukhari (Malay/Indonesian)
Supplication (Doaa) Books:
Daily Adhkar (Arabic)
Hisan ul Muslim (Arabic)
Supplications collection (Arabic)
Supplications Collection (English)
Hisan ul Muslim (English)
Other Islamic Books:
Al Raheeq ul Makhtum (Arabic)
Qasas ul Ambiya (Arabic)
Ahkam ut Tajweed (Arabic)
World Wide Prayer Times & Qibla Direction:
Thousands of cities in the whole world
Auto Silent Mode in Mosque during pray times
Fajar, Shrook, Zuhar, Asar, Maghrib, Isha
Juristic (Madhab) Setting
Graphical Qibla Direction Reference
Prayer Time Local Mosque and Adhan Time adjustment option
Dua Album:
Dua Khatmul Quran
Al Ruqeya [Al-Sudais]
Al Ruqeya [Al-Ghamdi]
Al Ruqeya [Al-Mahir]
Al Ruqeya [Al-Mishary]
Daily Adhkar audio (Arabic)

Quran Mobile Phone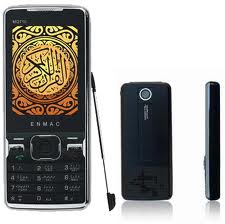 Cost: Rs.3,550
Payment method for India




Account Holder :e Business Indya
Account No :024205005652
Address :ICICI Bank, Charminar Branch, Hyderabad, India.
ICICI Bank IIFSC Code: ICIC0000242


Account Holder: Dot Com I Cafe
Account No:02182560000976
Address: HDFC Bank, Dilsukhnagar Branch, Hyderabad, India.
HDFC BANK IFSC code: HDFC0000218

Reciever Name: AMJAD SHAREEF
City : Hyderabad, India
Ph:+91-9391162671
Shipping in India: Free (Cost include shipping to any address in India, Please allow 3-4 days for delivery)
Shipping worldwide: $35 extra shipping cost, Please allow 1-2 weeks for delivery)
29 Quran Translations
 
Albanian
Azerbaijani
Bosnian
Bengali
Dutch
English
Finnish
French
German
Hausa
Indonesian
Italian
Latin
Malay
Maranao

Malayalam
Persian
Polish
Portuguese
Russian
Somali
Spanish
Swahili
Swedish
Tamil
Thai
Transliteration
Turkish
Urdu